Mizuno Golf Custom Fitting
Here at Billericay Golf we firmly believe that you should only buy golf clubs once you have tried and tested them so we recommend booking a custom fit appointment with our PGA Professional fitters at our Burstead Golf Club store.
There is no such thing as one size fits all when it comes to buying clubs so make sure you take advantage of the fitting process to avoid making any costly mistakes when purchasing your next set of clubs.
Mizuno offers an unparalleled custom build service – based on the procedures refined at the renowned artisans' factory in Yoro, Japan. A professionally custom fit set-up will provide a solid platform to play your best golf. With our State of the Art fitting studio based in Billericay, Essex and our PGA Club Fitter with over 20 years of
experience 
fitting Mizuno Irons, Wedges and Woods we can now use Mizunos DNA Fitting system to dial in the best set of Mizuno Clubs for your game.
DATA DRIVEN FITTING IN 3 SWINGS
Since its introduction in 2010, the Mizuno Shaft Optimizer has recorded over 500,000 unique golf swings – allowing us to constantly refine our Swing DNA fitting system.
The Optimizer has become recognized as the most effective way to start any fitting session, by measuring over 40 data points within the player's swing – their unique Mizuno Swing DNA.
Mizuno's Swing DNA system then matches the player's unique DNA to a map of over 50 iron shafts – shortlisting the best 3 to test.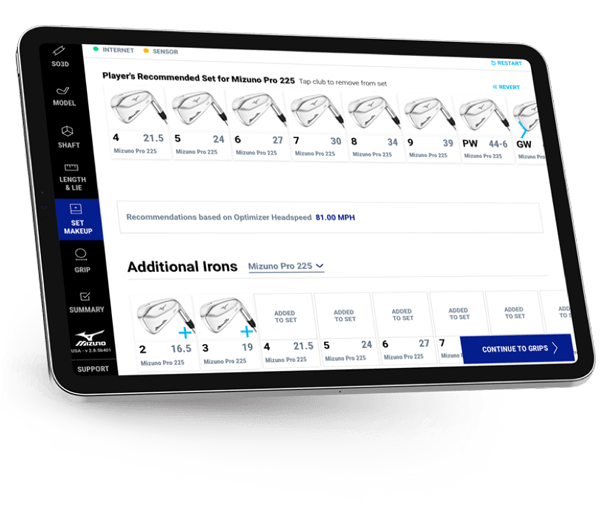 Using the same Mizuno Swing DNA, the software can also identify lie angle, full set make up and the best suited Mizuno ball model.
KEY FACTS ABOUT MIZUNO SWING DNA
It takes just three swings – To recommend iron lie angle, shaft, set makeup, hybrid shaft, metal-wood shaft and ball model

No such thing as a bad swing day – The Optimizer only measures how you load the shaft – not where the ball goes. So even if your ball striking is inconsistent at the fitting – the Optimizer can still accurately map your swing.

No handicap, age or gender bias – The Optimizer can only see your swing and won't have any preconceptions based on your handicap, age or gender.

Reduces 'fitting fatigue' – By reducing over 50 possible shaft choices to a shortlist of 3. Even the fittest players fatigue after 20 minutes of hitting balls.

It consistently matches what top fitters recommend – Players who have been fit on tour or at premium fitting boutiques nearly always find 'their shaft' in our three recommendations.

We ignore shaft labels – Mizuno measures every shaft independently – before entering into our software.
HOW DOES THE SHAFT OPTIMIZER WORK?
The Shaft Optimizer is a hittable seven iron, with internal strain gauges, micro-processors and a gyro – that combine to capture over 40 unique swing data points. Measuring how players load and unload the shaft during their swing.
The swing data is sent via Bluetooth from the Optimizer to the Swing DNA app, where it maps out your entire bag.
To book your fitting experience please use the link below, Our studio is based at The Burstead Golf Club in Billericay, Essex. within a 10 minute driver of Brentwood, Shenfield, and Chelmsford. Each 1 Hour appointment will cost £40 however we refund in full should you place an order over £500.
 {ets_cf_t1Y}